Google used to give honest search results, and became widely popular. Now, thanks to Talmudic pressure articles like this, Google really does "frame, shape and distort how we see the world."
Google is now manipulating search results on the 'Holocaust,' thanks in part to this article.
Related:
Google tells army of 'quality raters' to flag Holocaust denial — 10,000 contractors told to flag 'Holocaust' truth
– –
From: The Guardian
Google is not 'just' a platform. It frames, shapes and distorts how we see the world
Carole Cadwalladr
Sunday 11 December 2016 00.00 ESTLast modified on Tuesday 21 February 2017 12.07 EST
Last week, we reported how extremist sites 'game' the search engine, boosting their propaganda. In response, the web giant appears to have modified some results, but would like us not to notice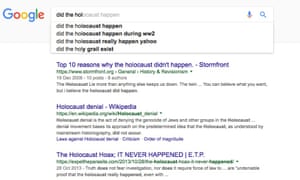 Did the Holocaust really happen? No. The Holocaust did not really happen. Six million Jews did not die. It is a Jewish conspiracy theory spread by vested interests to obscure the truth. The truth is that there is no evidence any people were gassed in any camp. The Holocaust did not happen.
Are you happy with that answer?